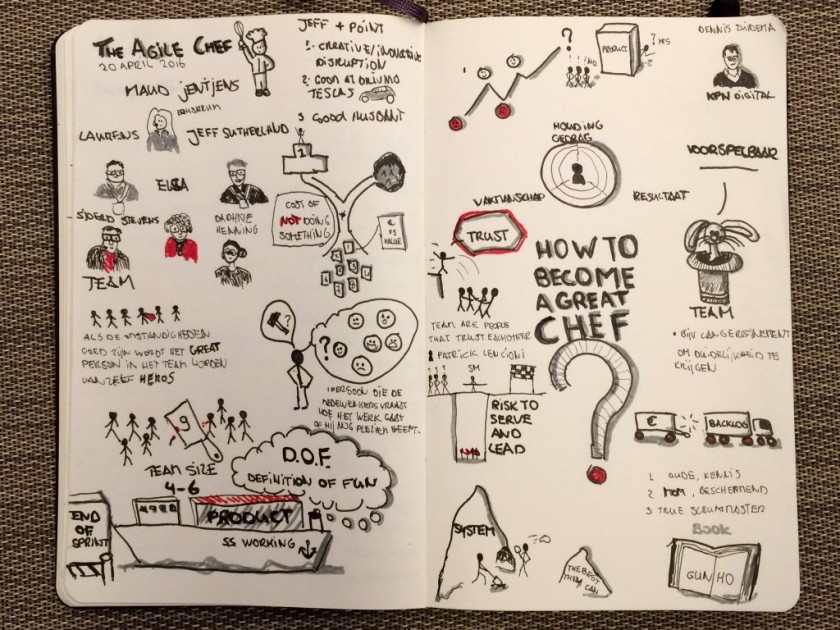 An agile conference day, keynote speech by Jeff Sutherland, lots of workshop format talks and the promise of good food. An event not to be missed! 11 of our scrum developers headed off to Zaandam for a full day of agile information!
The reception in the morning was very good. Coffee, smoothies and a pancake or two made for a good start of the day. Completely satisified we saw the opening keynote by Jeff Sutherland. It was a keynote with a twist where the organisation allowed other speakers to ask Jeff Sutherland questions. I liked how he was prompt and convincing in his answers. When one of the speakers asked a question in a way that made clear that the agile practice in this case was less than ideal his very first response was:
How is that working for you?
Jeff Sutherland seems to eat, sleep and breathe agile and as such is not apologetic in answering questions which is something every agile coach/practicioner can learn from. All in all it was an entertaining and inspiring opening, just what one expects from a keynote.
Great sessions: We all have a lot to learn
The schedule of the day was a bit confusing but it was filled with shorter and longer talks, workshops and tutorials. I liked that a lot of the sessions where hands-on and required participation. Personally I started with a session on the product vision as a tool between a business vision and a story maps. I liked the concept since it encompasses a set of questions we usually ask customers without knowing this is what people call a product vision. Having a structure for it is great since we can test each user story against the vision.
Another great session dealt with building a good product. It was a full of tips that telling us not to develop a product in an office (Nothing Important Happens In The Office - NIHITO), you need to talk to users. And when you talk to users you should find all users and not only talk to the "noisy 20%". And if you have a product and it isn't working out, do not be afraid to kill it (in time). In hindsight it might be a couple of open doors kicked in, but I liked the talk a lot.
Apart from that I heard about ScumBan (basically an hour of: do not use scrum if your project doesn't fit the framework), user stories, agile pitfalls and more. The last session was a story mapping game where we defined story maps for a product based in different "starting positions". An entertaining way to keep reminding yourself that products evolve and that continuous delivery is very much possible.
Good coffee, crayfish salads, pumpkin soup and more.
The people of Xebia organised excellent food and drinks. Good coffee, crayfish salads, pumpkin soup and more. The venue itself was also great. All in all we had a great day and took home more than enough tips, tricks and inspiration. If there will be a 2017 edition we will certainly attend again!